Ray masters brand new "zero technology" camera filters ARTICLES
ON 23/02/2017
It has been two years since I have started my cooperation with the Slovakian filters producer – Ray Masters – Camera Filters. Their passion and also their approach to work are the two main things I love about them, the same kind of passion and approach I have towards my work as photographer. If you have passion for Landscape photography there is no space for fatigue or cold and you will break all barriers. The same way as Jaroslav and Roman work so their dreams come true – they want to bring HIGH QUALITY and EFFECTIVE products.

It is very hard to compete with other brands on many fields so it is always better to bring something new and not only to copy competitors. I have to say that after 700 days of cooperation with Ray Masters, since we have met for the first time, it is an honour for me to be a member of Ray Masters Family and work with these awesome products. A dream come true in this field. We know that problems with ND filters are not easy and the main role of ND filters – incoming light filtering may be affected with unwanted colour shifts. We cannot accept that extremely expensive products which are part of our photography gear are a lower quality and do not achieve high quality results. To achieve the best quality on the moment a product is created is almost impossible. Only continuous development, hard work and efforts can bring the product to the next level. All these things apply to the Ray Masters' guys with the NEW ZERO TECHNOLOGY as they bring a new product series – ZERO ND Filters. ZERO has the most accurate real colour reproduction without unwanted colorcasts which are always a struggle during post-production. I am very happy that I tested products during my 15 days long journey across Scandinavia.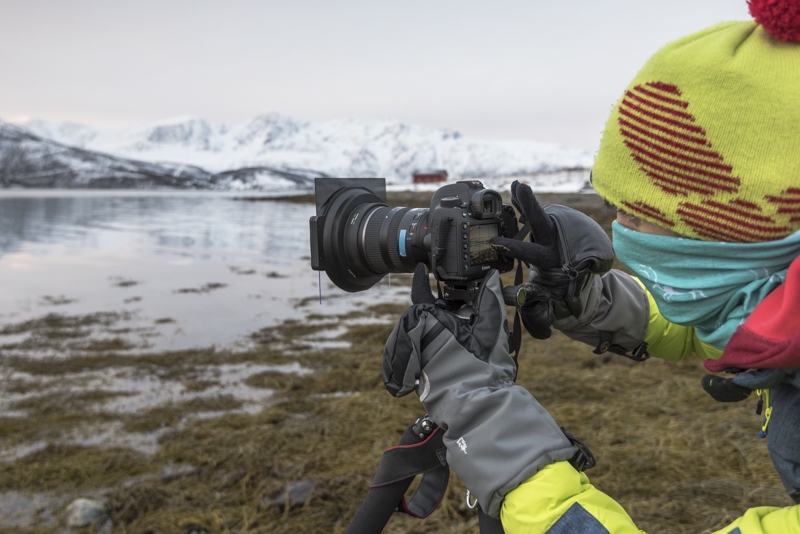 ΓΆ€‹
I would like to tell you my personal opinion about these filters. I do not want to compare them with other brands and carry endless debates about it. I am repeating – this is my opinion about the products. I focused mainly on Soft Grad Filters (100x150mm and 150x170mm) ND4, ND8 and ND16 – 2,3 and 4 stops filters which are the most important in Landscape Photography. I am very impressed and amazed – the results are so great. But before I show you actual results, I would like to underline some qualities and technical sides of the filters. Yes, ZERO filters are from resin too. Anybody can dispute that resin filters have disadvantages compared to glass but...... the main advantage of resin filters is an impact resistance – it is very hard to break them also during accidental fall. Anyway, you have to avoid scratches which can be caused by careless using and time. Next aspect is the price – and here resin totally wins. Glass is much more expensive. The next question is the final screen sharpness. And here is the space for innovation. Why not have TOP QUALITY products with razor sharp final results but much, much cheaper? It looks like Ray Masters – Camera Filters bring a very clear answer to this question!!! The company itself will bring some specific information about the filters. They will publish some articles about them. If you want to know more just stay tuned on Ray Masters' news. Look for their web and social media pages.
Here are some pictures i took on the field, id like to show both, the exact moment of the shot (taken with iphone) and a RAW original screenshot from lightroom (as you can see History Panel is perfectly at start of editing).
Photo #1... Lyngen Alps
Ray Masters Zero Technology # GND 8 soft 170*150 on Tamron 15-30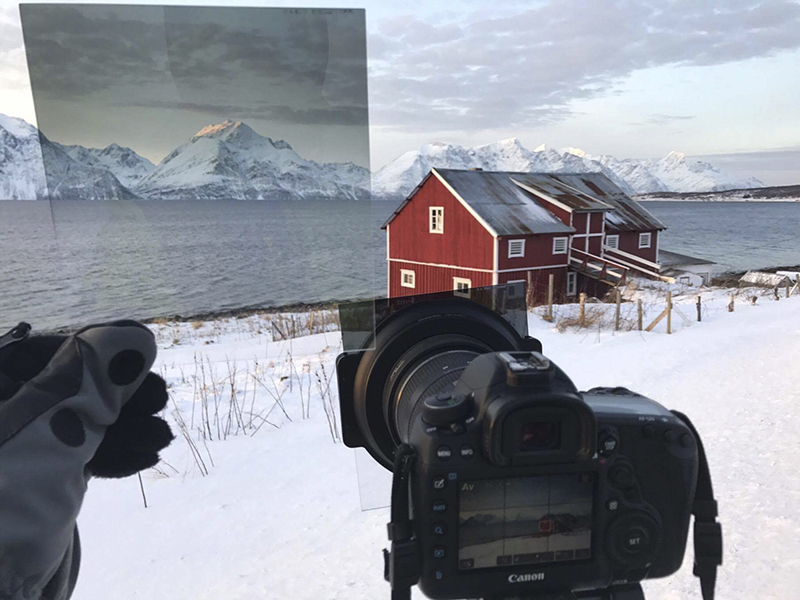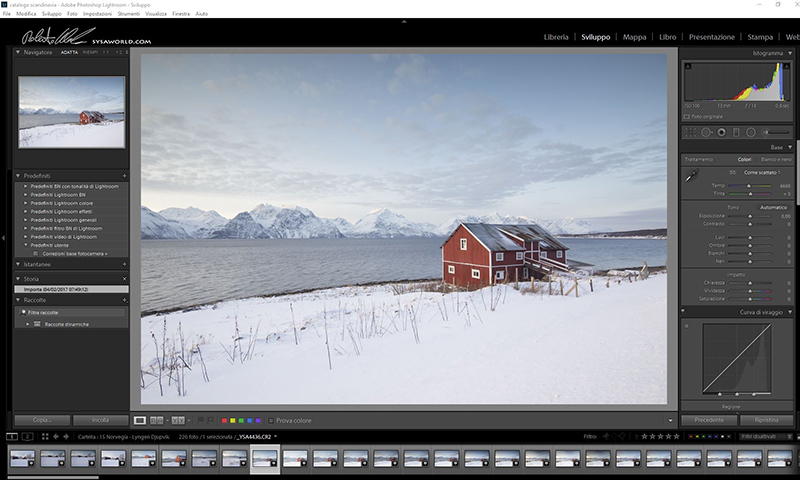 Photo #2... Senja
Ray Masters Zero Technology # GND 4 soft 170*150 on Tamron 15-30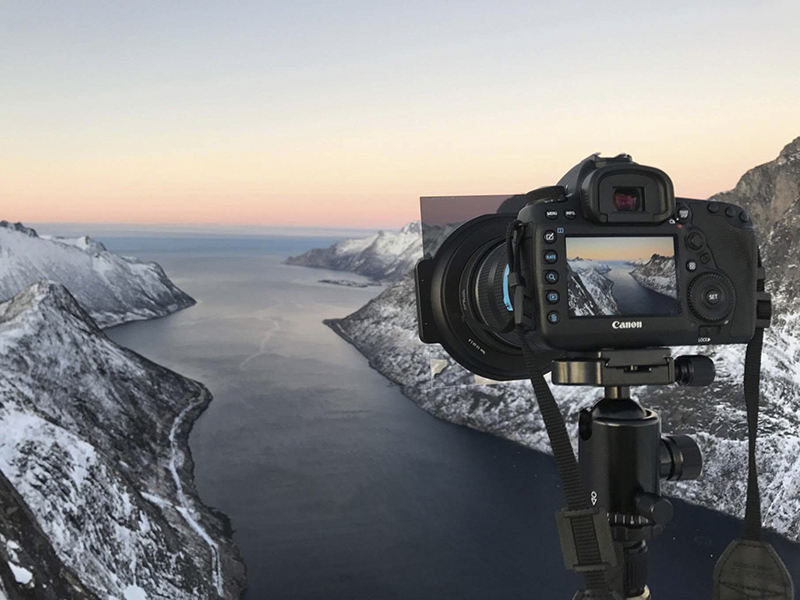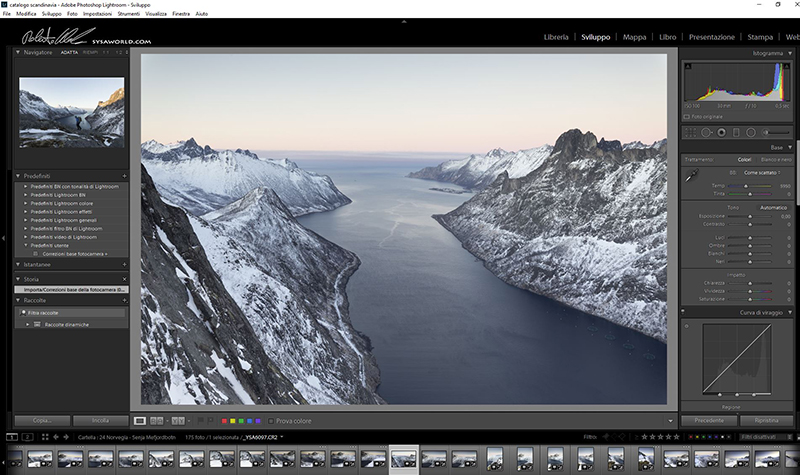 Photo #3... Lyngen Alps
Ray Masters Zero Technology # GND 4 soft + GND 8 soft 150*100 on Zeiss Distagon 15mm
In case you are interested on receiving original RAW files just request sending me an email : info@sysaworld.com.
Thank you and have a nice day.